---
Born in Amsterdam Gianna grew up amoung lots of musical and artistic people.
She was always drawn to playing music and singing.
At the age of sixteen Gianna started to perform in different percussion projects lead by her father Lucas van Merwijk who introduced her to the world of drums and percussion. Gianna travelled across national and international concert halls, radio, television and recording studio's and quickly experienced the life of a musician.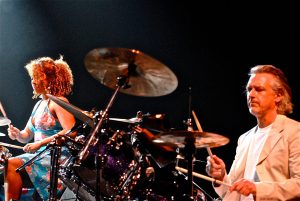 At this time she was still in Highschool, wich ment preparing for tests in the dressingroom and sleeping on a matras in the back of her parents van.
Next to excelling in the field of percussion and drums she started singing in various projects and bands and trained her voice. During her studies at the conservatory of Amsterdam, she developed another talent, her passion for song writing. Wich resulted in varies singles and the two albums 'Make Me Smile' and 'Polyphonic Heroine'.
Gianna's drum, percussion and vocal talents came together in her own solo act. Her music was inspired by Prince and Sheila E, refreshing their eighties funky synth sound into the new century.
---
During her musical journey Gianna has worked with lots of diffrent artist including, Candy Dulfer, Jett Rebel, Bas Bron, Drums United, Shirma Rouse, Gyptian, The Ladies of Soul and The metropole Orchestra led by grammy award winning conductor Vince Mendoza.
For her drums and percussion she is supported by Pearl Drums, Remo, Zildjian en Roland.
At the moment she's part of the new band Arp Frique.
And working on her new music with her brother Charlie who' s a very talented music producer.